Your IP number is 54.163.20.123
(IPv4)
Service Interruptions
Lund, Sverige
(Saturday May 18, 18:40 CEST)
Interruption of LAN services, affecting 34 customers.
Interruption ended 19:50 CEST.
Service interruption times are measured from the moment our monitoring system detects an outage until it has been completely resolved in that area.
Planned Works
There are no planned works in the next two weeks.
Internet Traffic Levels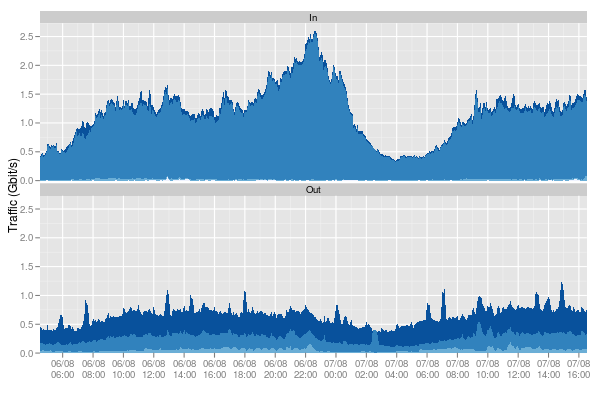 The graphs measure the amount of traffic to and from the rest of the Internet. The total available capacity is currently in excess of 5 Gbit/s. Each shade indicates a separate external connection, not specifically named for reasons of business confidentiality. The only factor limiting end user speeds should be the end user connection (i.e. an ADSL or LAN link). There should always be spare capacity available in the core network and on external connections.
Service & Contact Information
At Perspektiv Bredband we continually monitor every element of our network infrastructure. Any interruption of communications in our access equipment (the switch in your apartment building basement, or the equipment in the telephone station) is registered as an interruption.
The cause of an interruption can be a local power failure, an equipment failure (hardware or software) or planned work. Planned work is done to keep the network up to date and to extend it to new locations. When such work is expected to cause a service interruption, it is scheduled wednesdays 00:00 to 06:00 or saturdays at the same hours.
For general queries and problems, please contact our customer service department at